Welcome to Daitanni Acres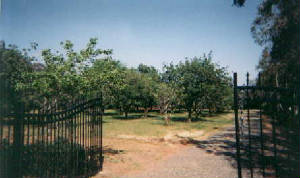 entrance to Daitanni Acres
Daitanni Acres is located west of Winters, California. The area is a country setting surrounded by native Oak trees and native animals (quail, deer, rabbits, coyotes, etc.).

The property is the home for my two Rhodesian Ridgebacks, Spirit and Panache and formerly my Akita Koi. Koi was recently adopted by a dear Akita Fancier. Koi now gets to live with two Akita females and enjoys a new lifestyle.

Soon I hope to bring Spirit and Panache to Germany to be with me, until then though they continue living in the country and enjoying the freedom of Daitanni Acres.
Spirit and Panache greeting my sister
Two happy hounds with Elizabeth May 2005
Background:
I purchased my first Akita in November 1979. His name was CH Ishi Aman CD, TDX, TT and he was a record breaking Akita. He and I did LOTS of activities together, traveled to many places, and enjoyed many events. I cherish my memories of my First Akita.

In 2001 I bought my first Rhodesian Ridgeback puppy. This was a new breed of dog for me after years of having Akitas exclusively. My first RR was named "Spirit" and she was and is my Spirit. She is so special.