We purchased Ruby on March 11, 2006, at age 6 .5 months. Her breeder is Kirstin Janson. Ruby is sired by a livernose RR named Manzengwen ya Nombeko Leon imported to Germany from Australia. Ruby's dam is CH Akimba Bor-Mazoe imported from the Netherlands.
Ruby is correct in conformation, elegant in type, with clean and sound movement plus an adoring personality.

Ruby's first day at her new home (6.5 months)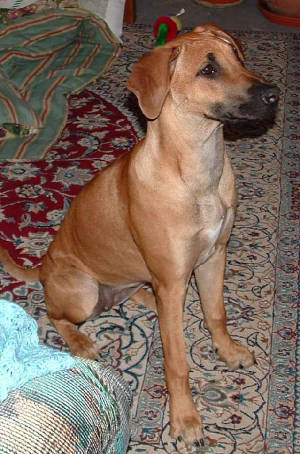 Sitting Pretty
Click on this text to visit Nombeko Rhodesian Ridgeback web page. Here you can see her sire and dam and a lot of information about Rhodesian Ridgebacks.
Ruby had a big day; first she went to a dog show in Offenburg, Germany to watch her litter brother at his first show. Then over to Hambacher Schloss (castle) for a fun romp in the woods along with other RRs of all ages. Then she got to meet us, take a nap, then the good-bye and hello and off to Heidelberg to her new home. She rode perfectly well in the car and came to her new home and within hours she was ready for a sound sleep.
A tired Puppy is a Good Puppy
Ruby is tuckered out after a long day of play and then to her new home
A lovely Rhodesian Ridgeback ridge
Ruby's ridge
Ruby was shown on March 19, 2006, at her first dog show near Wermelskirchen, Germany. Thie judge gave a favorable written critique.

Adventures with Ruby to be continued...........
Ruby's first show at a RR specialty
Elegant, Correct, and unfortunately would not show her bite
Pictured at 6 months, first show in Germany
Ruby a royal gem