Spirit was bred by Lindy Marinko, in Vacaville, California. She was lovingly raised with her sibblings litter of nine. Her sire is CH Calico Ridge Sunchase Reno and her dam is Mirembe's Golden Kira.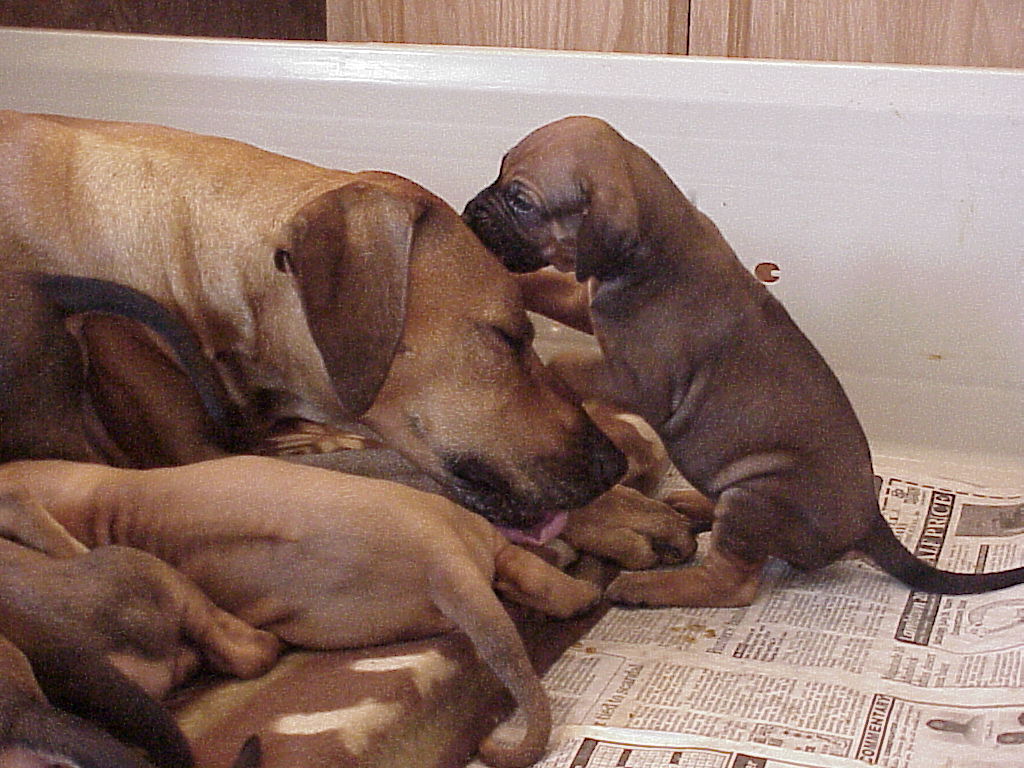 The Rhodesian Ridgeback is a dog of formidable power, dedication and courage. He claims an ancient heritage, yet is of relatively recent lineage in terms of standardization of the breed.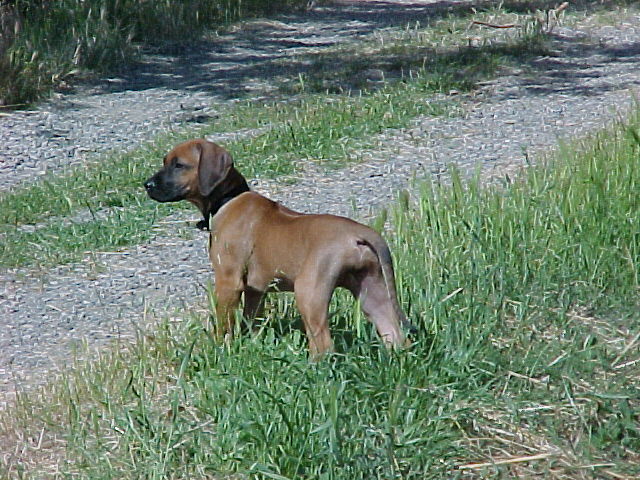 Pedigree for Calico Ridge Born Free
Owned by Jeanne G. Hayes

sire
CH Calico Ridge Sunchase Reno
sire
BISS CH Calico Ridge Bourbonst Blues
sire
CH Calico Ridge The Warlord
sire
CH Calico Ridge California Blues
dam
Sunridge Naughty Jess
dam
CH Calico Ridge Lilly Langtree
sire
CH Calico Ridge TGIF
dam
CH Calico Ridge Borrowed Angel, ROM
dam
CH Arr Reflections of Sunchase
sire
CH Kimani's The Standard Image, JC
sire
CH Kimani's Sharper Image
dam
CH Shabani of Sprucewood
dam
CH Arr High Desert Shaniko Sage
sire
BISS CH Calico Ridge Bourbonst Blues, CGC
dam
CH Arr Cheyene, CD, TD, JC, VC
dam
Mirembe's Golden Kira
sire
CH Calico Ridge Solid Gold Hero
sire
CH Calico Ridge Sat Nite Special
sire
CH Calico Ridge Honky Tonk Hero
dam
Calico Ridge Firestarter
dam
Calico Ridge Morning Desire
sire
CH Calico Ridge Commander Cody
dam
Calico Ridge Tequilla Sunrise
dam
Lakerunner's Mirembe
sire
CH Calico Ridge The Warlord
sire
Ch Calico Ridge California Blue
dam
Sunridge Naughty Jess
dam
Calico Ridge A Touch Of Class
sire
CH Calico Ridge Honky Tonk Hero
dam
CH Oakhurst Jali Bahati
This pedigree page was built for free at SitStay.com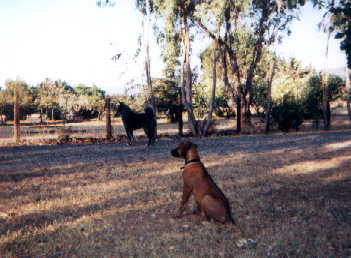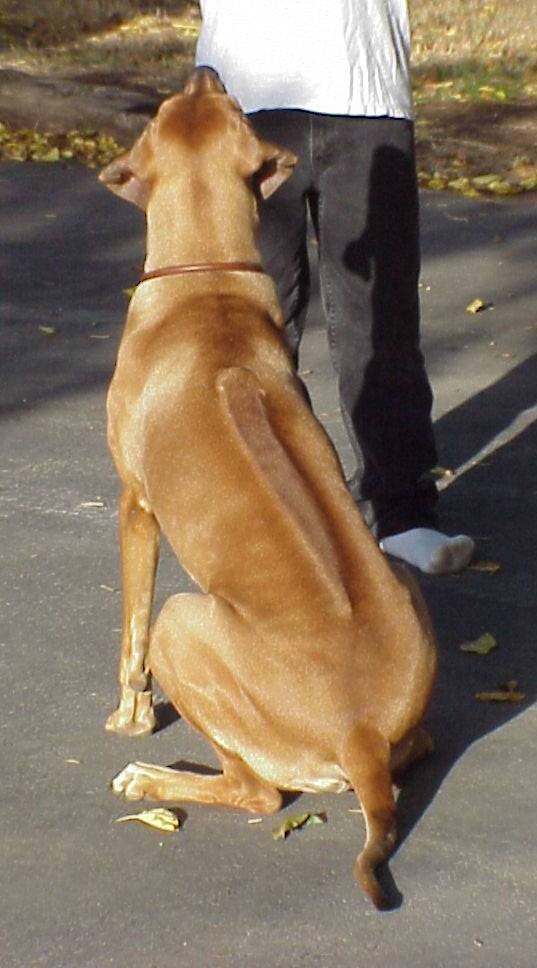 Pictured is "Kira" ..... Spirit's mother.
A RHODESIAN RIDGEBACK represents the perfect balance between power and elegance. The power should come from soundness and conditioning, not from excessive size. The elegance comes from style, presence and carriage. The Ridgeback should give a clean appearance with body lines blending smoothly. A male should be masculine, not coarse or cumbersome. A bitch should be feminine but strong, not weak or delicate.
At the trot, the back is held level and the stride is efficient, long, free and unrestricted. Reach and drive expressing a perfect balance between power and elegance. At the chase, the Ridgeback demonstrates great coursing ability and endurance.

At all speeds the gait is effortless, rhythmic and smooth, denoting efficiency, presence and style.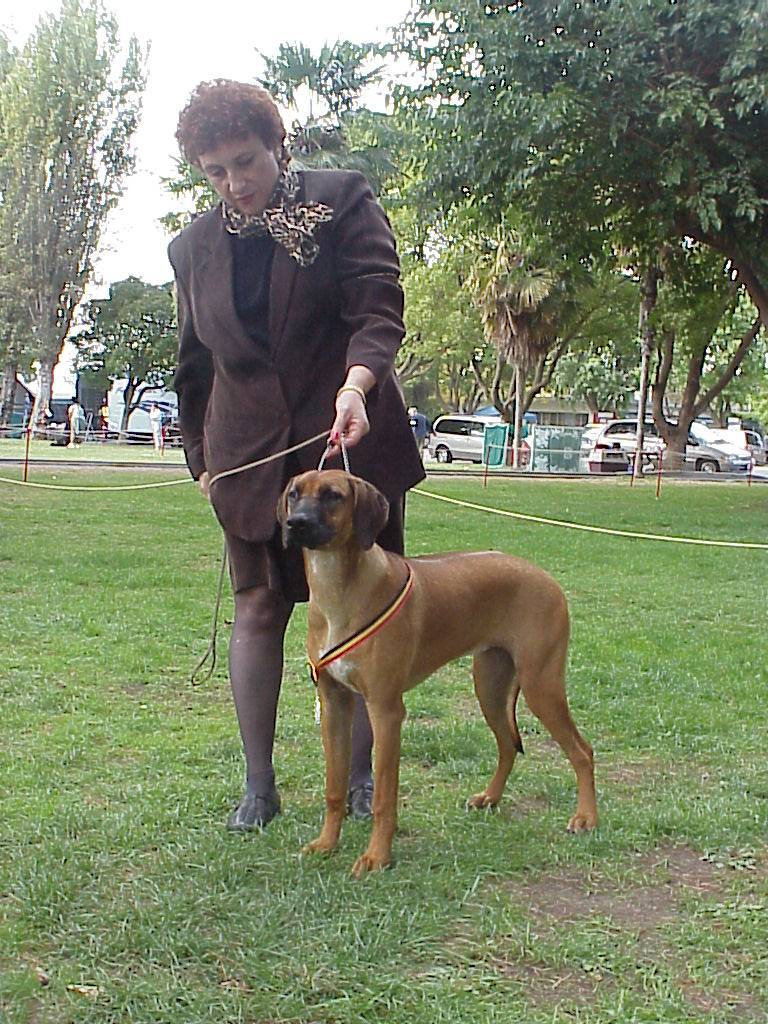 Spirit attended a "herding workshop"..... to observe her prey instinct. The objective is to earn a Herding Instinct Certificate (HIC).
Introduction to "herding sheep".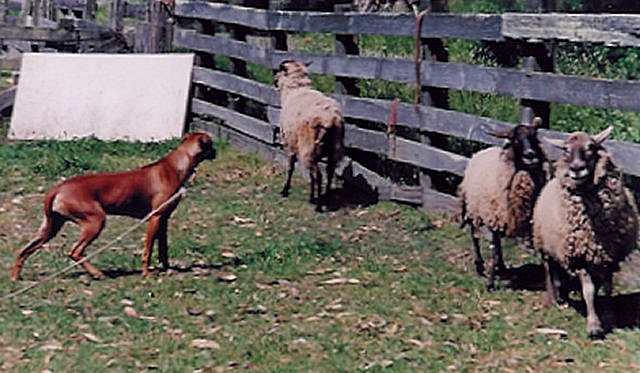 On May 5, 2002, in Pescadero, CA
The Ridgeback is an athletic dog, clean-muscled, upstanding, well balanced and smooth in outline, a dog intended to hold large and dangerous game at bay. He is agile, quick, light on his feet and intelligent enough to stay out of harm's way, brave enough to defend his master.

Spirit possesses all these qualities already!
Spirit in full chase on a lure course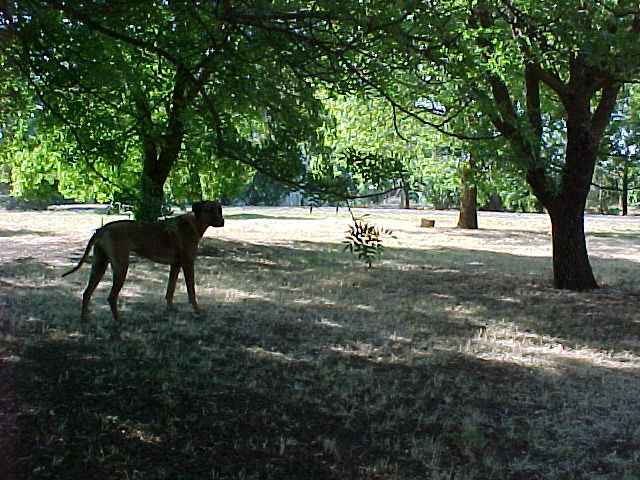 The hallmark of this breed is the ridge on the back which is formed by the hair growing in the opposite direction to the rest of the coat. The ridge must be regarded as the characteristic feature of the breed. The ridge should be clearly defined, tapering and symmetrical. It should start immediately behind the shoulders and continue to a point between the prominence of the hips and should contain two identical crowns (whorls) directly opposite each other. The lower edge of the crowns(whorls) should not extend further down the ridge than one-third of the ridge. Disqualification: ridgelessness. Serious Fault: one crown (whorl) or more than two crowns (whorls).
CH Calico Ridge Sunchase Reno (sire of Spirit)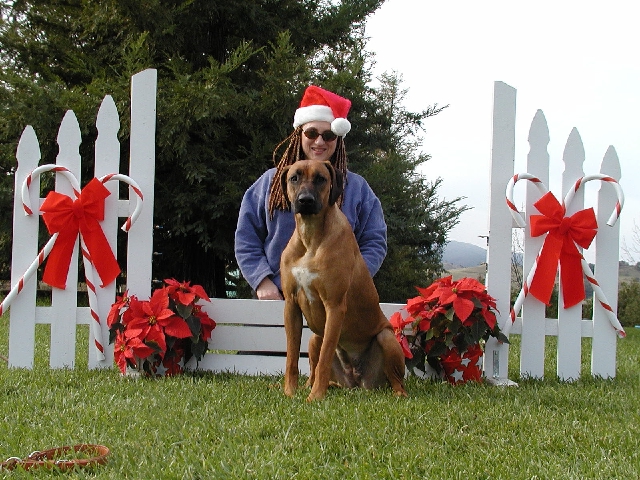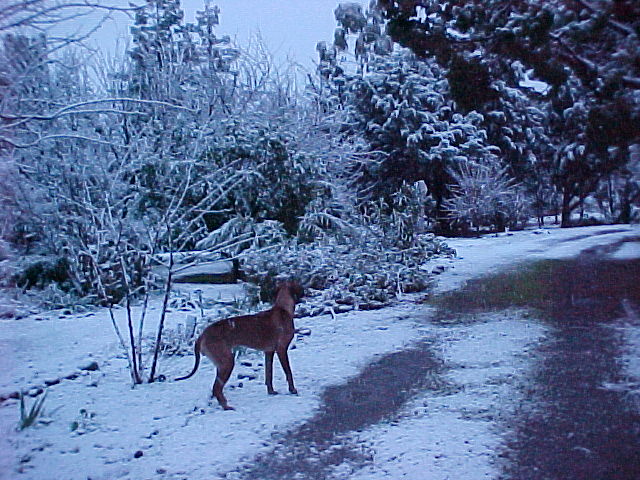 Spirit on the hunt..... for that lion.
Elizabeth with Spirit and Panache
at Heavenly Acres in May 2005